Stakeholder Interviews
If you're like most organizations, you struggle to communicate your value. We'll have a few honest conversations with your team to help us get to the heart of the challenges you're facing and pinpoint strengths and gaps.
Market Research
Good data is key to making the right decisions. Whether it's a customer survey, keyword research, or a focus group, we use tools and analysis to get a solid understanding of your market—key audiences, notable competitors, and untapped opportunities.
Brand Positioning
How will your brand capture attention, inspire loyalty, and delight your followers? We'll develop a clear positioning statement that sets you apart from your competitors and share recommendations for building awareness.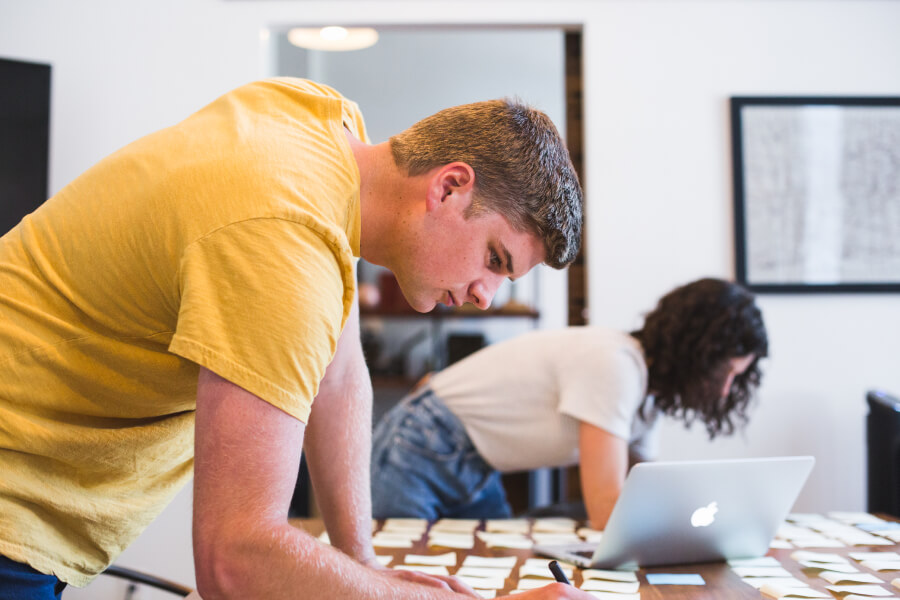 Additional strategy services:
Competitive Analysis
Brand Architecture
Audience Segmentation
Go-to-Market Strategy
Breeo

After years of modest growth, we helped Breeo gain a deeper understanding of their ideal customers—and overhaul their brand to match.

Juru

Juru got its start as VibraLife, an herbal supplement for specialty dog breeders. But when their team came to us, they were ready to go direct-to-consumer. We renamed, redesigned, and repositioned the brand to reach pet parents wanting the very best for their pup's digestive health.

King Swings

In the surprisingly competitive Amish-made swing set market, we helped King Swings stand out with a brand built around the benefits of active play.
Your Strategy Team
Trevor Stauffer

Content Strategist

Ryan Martin

Account Director

Ryan Smoker

Creative Director

Chelsea Bock

Account Manager

Dan Smith

Account Manager
Frequently Asked Questions
Typically, we find qualitative research to be most valuable to the strategy process. Sure, we can tell you about search data, ad spend, trending topics, consumer attitudes, and what the best brands in your space do well. But what's usually most helpful during the strategy phase is having in-depth conversations with the kind of people your brand will serve.

In most cases, one-on-one interviews—and the invaluable insight they produce—are at the heart of our market research. (Highly targeted online polls are another good option when we want a larger sample size.) If you're looking for a specific set of quantitative data that requires a dedicated research partner, we're happy to recommend a third party and work with them to ensure we're gathering the right information to inform your brand.

A good buyer persona contains about a page of information detailing a certain customer profile and what they're seeking from your brand. We develop buyer personas based on thorough discussions with past customers, current customers, your competitor's customers, and potential buyers.

Buyer personas provide our team and yours with invaluable insight into the way real people make decisions when considering your product or service, what benefits appeal to which buyers, where their hesitations lie, and more.

Buyer personals are most valuable in high-consideration purchases (e.g. financial services, luxury goods, B2B software, etc.). If you're selling low-price packaged goods, you'll probably benefit less from buyer personas. This is because with low-consideration purchases, people are less likely to remember (or really know) why they picked the product they did from the shelf. And that means they won't be able to provide many useful purchase insights to build a buyer persona from.

It's a clear statement of what sets your brand apart—how the world can benefit from your brand when so many are already out there. It might be public facing. It might double as your tagline. Or it might be a strictly internal tool for our teams. Regardless, your brand idea will serve as your brand's compass.

For an example of a brand idea in action, check out our work with Breeo.

Generally, we'll kick things off with a meeting that lasts from two hours to a full day. Our goal is to get an intimate understanding of your team's strengths, pain points, hopes, fears, and goals.

Based on what we learn, we'll spend the next few weeks conducting interviews, surveys, and desk research to dig even deeper. As we immerse ourselves in your company, customers, and competitors, we'll chart a path forward for your brand.

Finally, we'll present your team with a summary of our research findings, our proposed brand strategy, and examples of how that strategy might come to life.

As a branding and design agency, we help our clients integrate thoughtful brand strategy into their broader business strategy.

While business strategy informs all the choices a business makes—including hiring, corporate responsibility, product development, and org structure—brand strategy is more specific. It focuses on the creation and maintenance of a brand that will help the business achieve its larger goals.

That said, brand strategy can also provide value to the larger business strategy. Because brand strategy looks for insights into audiences, competitors, and culture, our work often helps clients rethink more than just their brand. When done well, brand strategy can inform decisions around R&D, product design, company mission, and more.