A passionate, entrepreneurial physician re-imagines the patient experience in primary healthcare
Novara Healthcare
It's no secret that the healthcare industry can be complicated for all involved. It can be a real chore for people to connect with a doctor who has the time to listen and provide the care they are looking for.
We partnered with Dr. Chris Hager to articulate what an innovative, direct primary care medical practice could look like in Central Pennsylvania. During our work together, we sought to answer a simple question: If you removed all unnecessary barriers, how would that transform the patient experience?
Research like the brand depends on it
Establishing a Strong Foundation
We studied the emerging direct primary care movement at a national level, analyzing practices across the country. We gathered public opinion polling data and conducted focus groups to understand dominant attitudes about traditional primary care. Our team defined a balance between this stand-alone brand and its major investor, Lancaster General Health.
"We sought to retain the trusted, established regional healthcare brand, while also allowing the Novara brand to be independent and agile enough to forge its own value proposition through its boutique feel and personalized experience."
A Human-Centered Goal
Ultimately, Dr. Hager created Novara to be able to offer a unique, high-quality primary care experience focused on helping people reach their goals. This innovative, membership-based model offered him a way to see fewer patients, get to know them on a deeper level, and act proactively in their best interests—even when they aren't sitting in his office.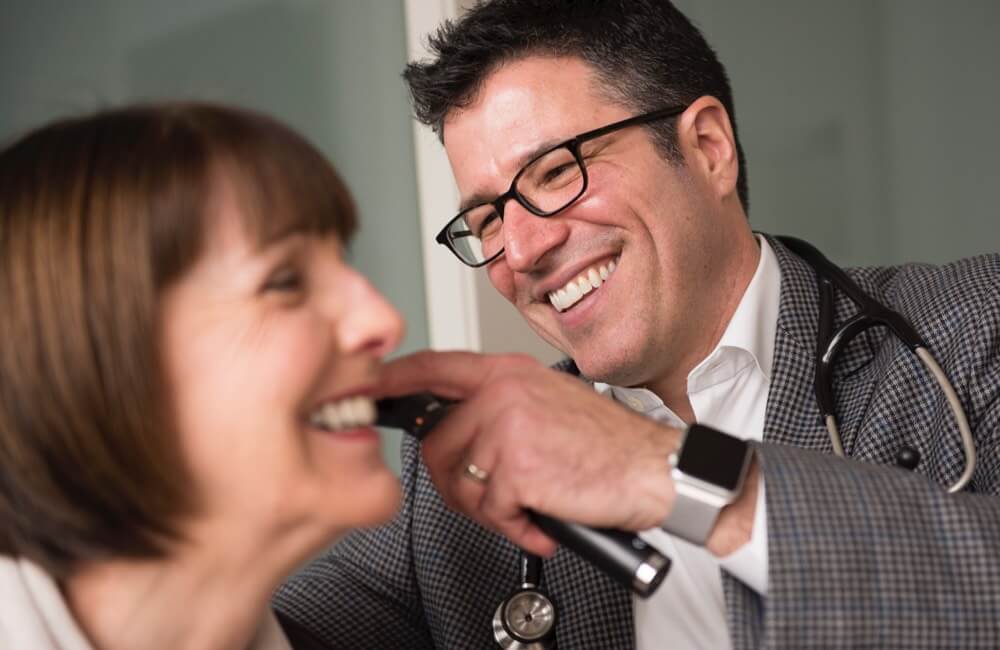 Demonstrating the Difference
Because Novara's approach is all about personalizing care, we chose to tell patient success stories that would demonstrate the model's value for real patients dealing with real health issues.
Pairing a visual identity with a compelling brand narrative
Finding a Name to Guide the Way
Our primary goal in creating Novara was to articulate Dr. Hager's unique passion for helping patients thrive. As a trusted medical advisor, he guides his patients toward better overall health and wellness—providing support, accountability, and above all, an authentic relationship. We named the practice Novara because of its simple elegance, and its deeper meaning. The name is constructed from the Latin roots nova (meaning "newness" or "brightness") and nāvāre (meaning "to accomplish or pursue enthusiastically").
Sophistication Meets Approachability
Novara's brand identity is rooted in the guidance the brand provides to its customers. Grays and blues were chosen for stability, with an aqua accent to add personality. The logotype features a strong, lean sans serif, providing a modern, yet elegant vibe. Plus, a subtle North Star shines above the main logotype, and is also utilized as a pattern throughout identity materials for cohesion and easy recognition.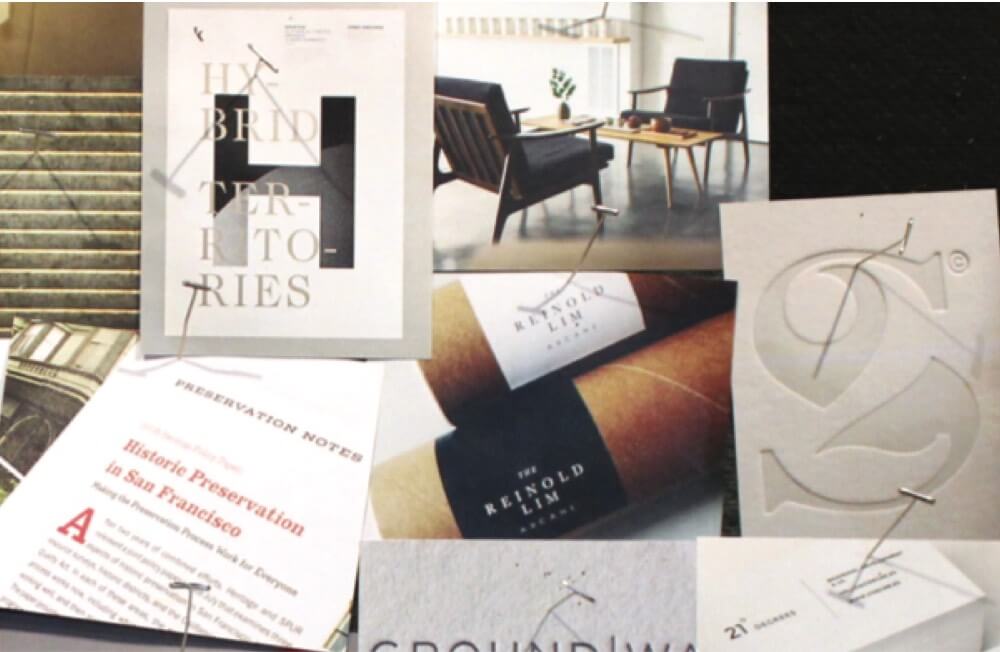 Gathering Patient Stories
After painstakingly interviewing, writing, photographing, and filming, we incorporated these stories into all aspects of brand communication, including the website, print materials, and across social media channels.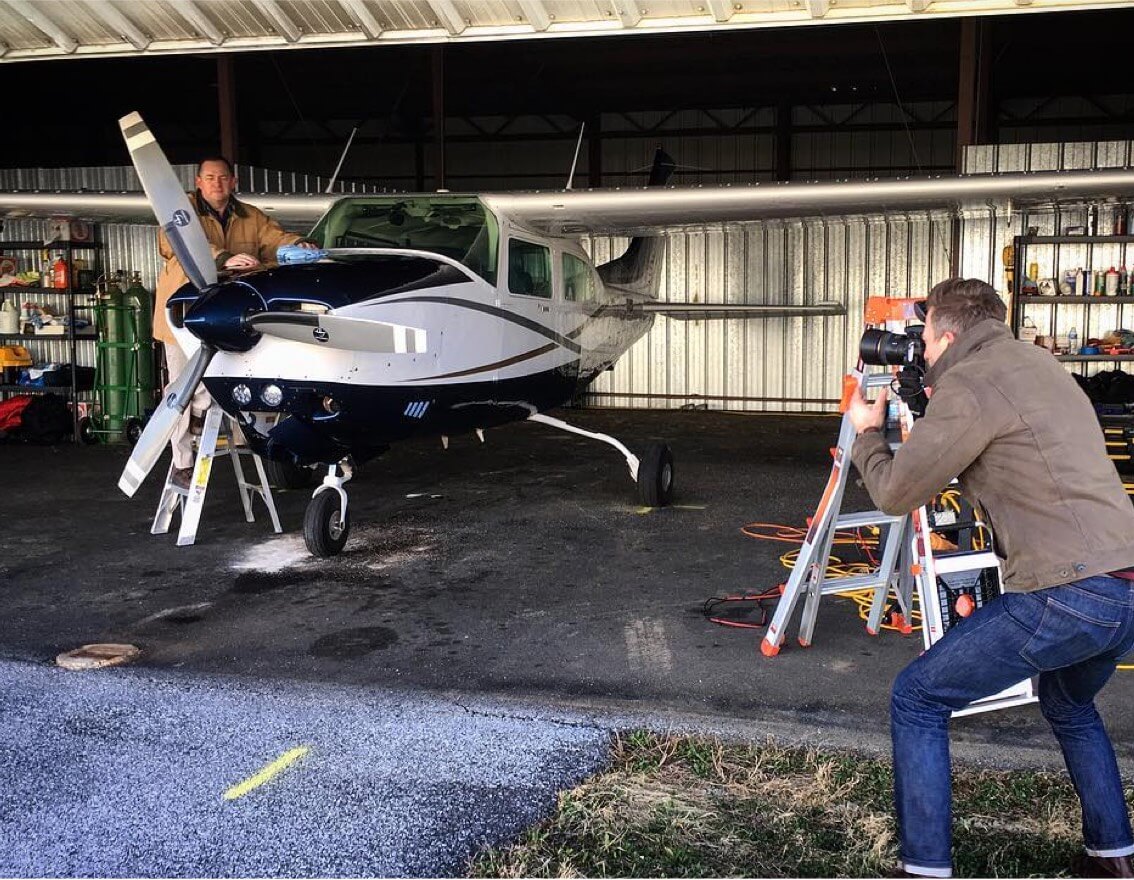 ---
Solutions That Hit Hard on Brand Value
We built Novara's website to offer a clean, simple way to educate users about the brand, while also serving as a tool for patient acquisition. The website succinctly explains Novara's unique model of care in a story-driven way, while also including all the nitty-gritty details about membership costs, what's included, and most importantly, how to get started as a member.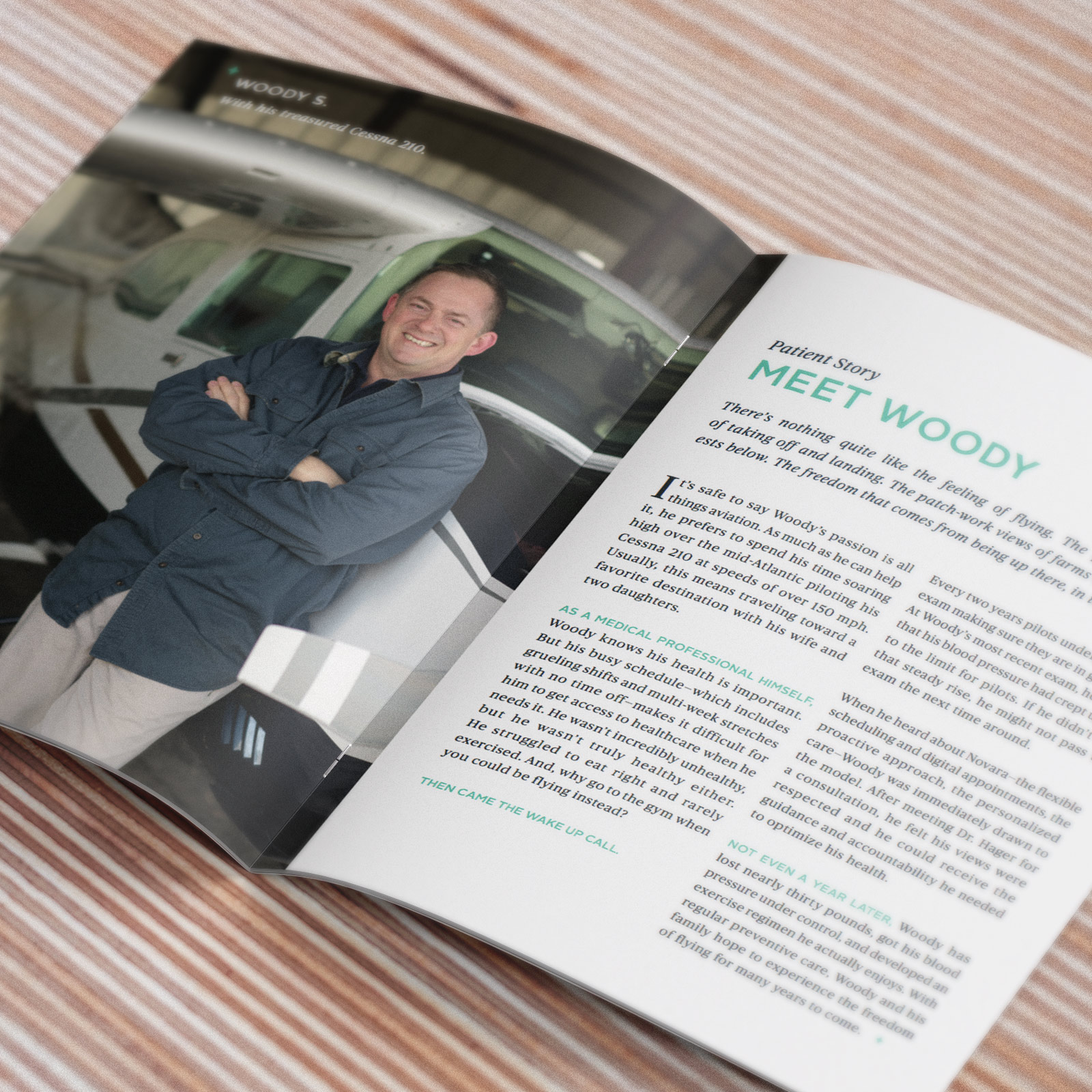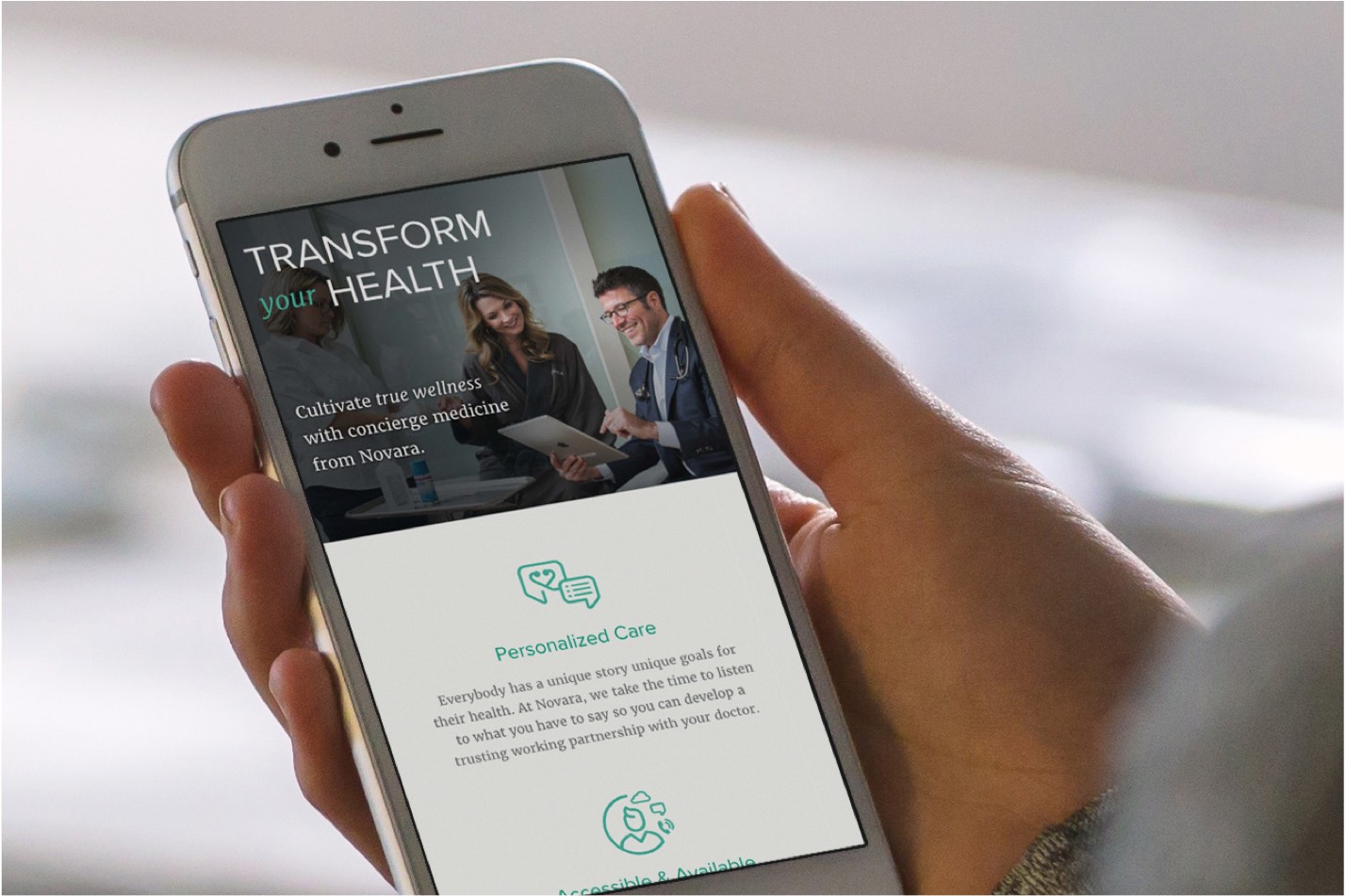 ---
Catalyzing Growth with Tactical Marketing
We loved working with Dr. Hager to build the Novara brand from the ground up. But, a beautiful brand identity and strategy is nothing unless you can actually do something with it.
Sustainable Success is a Continual Process
When Novara finally launched into the world, we began implementing promotional tactics that grew the business by attracting new patients. From social media, email marketing and blog content creation to events and ongoing story-gathering, we helped prioritize and coordinate marketing initiatives across a variety of channels for maximum impact.
893%
growth
in FaceBook engagement
---
Living the Promise
Even more than consistency, simplicity, clarity, and growth, branding requires delivering on the "promise" made to its customers. For a startup that's only been in the marketplace for a short time, Novara is successful not just because they have a great brand identity, a user friendly website, and fantastic marketing materials. They are successful because they also follow through on their promise to provide exceptional care that feels effortless and empowers their patients to accomplish their wellness goals. The single best indicator of a strong brand is customer loyalty, and Novara's patient retention rate is near perfect.
"We think this is the true proof of a strong brand—loyalty, retention, tribe building. When it comes right down to it, people want to feel that they belong."